---
DTN IQFeed - IQ Feed Market Data - Trading Key Features
DTN.IQ is a real-time, streaming quote and news service with data direct from the exchanges.
DTN.IQ gives you the ability to watch the market move in real time, just like professional stock brokers. With our comprehensive DTN.IQ package, you will get our state-of-the-art software program with a multitude of built-in investment tools.
While most quote feeds on the Internet provide a snapshot of real-time data, IQFeed provides a TRUE, tick-by-tick datafeed. This feed is completely unfiltered, allowing you to see EVERY TRADE that occurs in real-time. Because many symbols trade dozens of times per second, you could be missing more than 50% of the actual trades with your current datafeed!
DTN.IQ owns our the ticker plant and data centers. That means you are guaranteed fast, reliable quotes and superior service.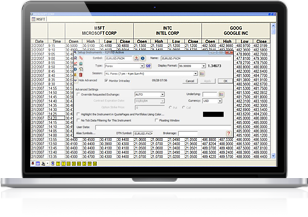 Built-in investment tools:
Futures, Futures Options
Futures Spreads Quotes
European Futures Quotes
Single Stock Futures Quotes
E-mini Quotes
Customized Watchlists
Alerts,Charting,Snap Quotes
Time & Sales, Tickets
ExpertFolio, Scrolling News