Scaled Dynamics Trading Platform Key Features
Professional high-frequency traders, brokers, money managers, risk managers, and even individual traders and amateurs all agree – never before has trading been so easy.
Scaled Dynamics Key Features
Gatekeeper connects to a multitude of leading exchange connectivity venues spanning a broad range of asset classes including Bitcoin, Options, Futures, Equities, ETFs, and Bonds. If you don't see a liquidity venue offered, you can build out your own exchange connectivity adapters using Gatekeeper API, or you can work with our experienced technology team to build one for you.
Gatekeeper is the ONLY professional trading platform that has been battle-hardened by professional high-frequency traders for years.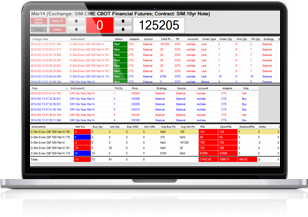 Key Features
Access to trade multiple asset classes, exchanges, and accounts through a single front end
High-speed order routing through a multitude of third-party adapters
Powerful automated execution tools
Built-in position and risk information, including self-imposed limits
Sharable cloud-centralized workspaces with colleagues, customers, students, and friends