Trading Robots and technical indicators
Automated trading and analysis tools
The MetaTrader 5 platform offers the most sophisticated automated trading capabilities for day-to-day operations on various financial markets. Trading robots can analyze prices and perform operations, without any human involvement. One of the most significant advantages of trading robots is their ability to operate with large amount of calculations tirelessly and objectively.
Manual data processing and recalculation of multiple analytical instruments at the same time is a difficult task. It is hard to analyze highly volatile markets, because the market state can change suddenly and dramatically. Trading robots can do various calculations almost instantly and they can easily process large amounts of data. As a result, a trading strategy can accept more detailed real-time signals and thus can determine trade entry and exit points more precisely.
Trading robots in MetaTrader 5 provide:
Instant processing of large amount of currency, stock and other security quotes
More precise signals
Efficient financial trading 24 hours a day
Strict adherence to a programmed algorithm
Trading robots are inexhaustible and can operate 24 hours a day without affecting their efficacy.
Analysis of currency, stock and other security quotes is a hard and tedious process that every trader is familiar with. Human concentration inevitably weakens over time, which may lead to incorrect calculations and improper management of the trading platform. As a result, all these drawbacks might lead to trading mistakes and missed opportunities. MetaTrader 5 Expert Advisors solve this problem by strictly adhering to the trading algorithm and seizing every opportunity in the market. For example, by 2 a.m. traders can be sleeping, while robots continue to analyze markets and execute trade operations.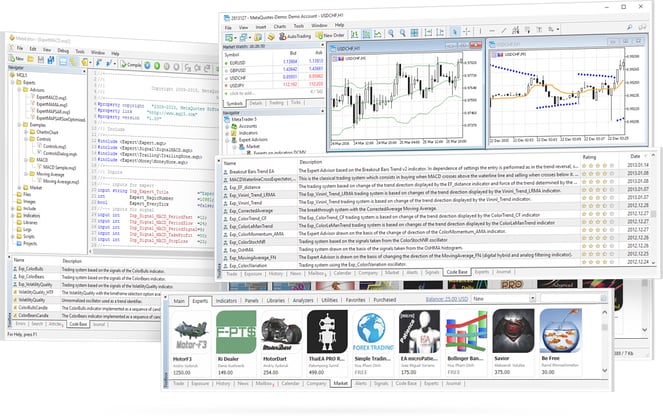 Finally, trading robots lack human traits such as self-confidence, enthusiasm, excitement, etc. All these human traits affect traders and therefore their trading activities. Expert Advisors are free from these emotions and operate exactly as they have been programmed. Thus the emotional factors in trading are neutralized.
Technical indicators
The MetaTrader 5 platform is equipped with an impressive set of popular technical indicators that satisfy almost all analytical demands of the modern trader. However, technical analysis is constantly developing and thus new analytical tools are created every year. MQL5 can help in keeping up to date with further developments.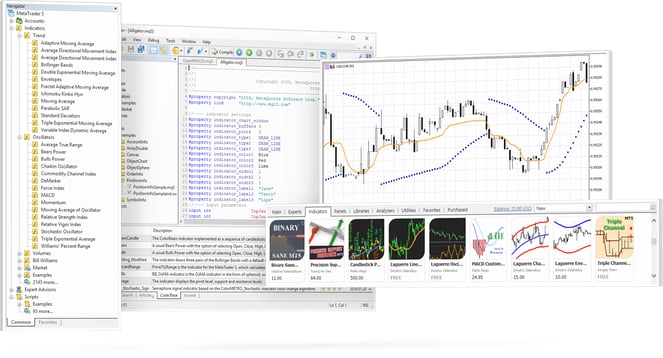 Do you need a special analytical tool? The MetaTrader Market of trading apps and the Code Base offer a choice from thousands of options. Still not enough? You can order an indicator from a Freelance developer or create it by yourself! The MQL5 development environment allows developing custom tools that can be used to analyze quotes of currencies and stocks.
MQL5 indicators can access the entire database of historical information of a selected financial instrument (currencies, stocks and other assets) and process this data. Indicators can be applied on a price chart or in a separate sub window. Traders have full control of calculation parameters and all the options of instruments. In other words, MQL5 indicators are practically the same as the built-in technical indicators, thus they can share the same wide range of options for trading.
Use robots for automated trading and indicators for technical market analyses and boost your trading efficiency!