Trading Platform — User Manual
The Trading Platform is the trader's working tool, providing all the necessary features for a successful online trading. It includes trading, technical analysis of prices and fundamental analysis, automated trading and trading from mobile devices.
All Types of Orders, Price Charts, Technical and Fundamental Analysis, Algorithmic and Mobile Trading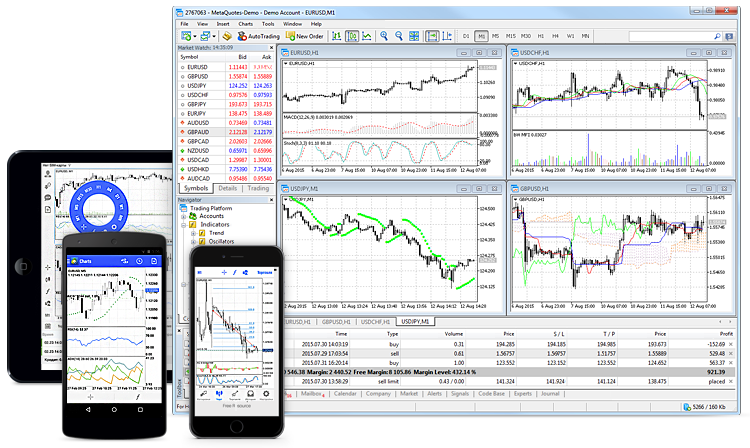 Trading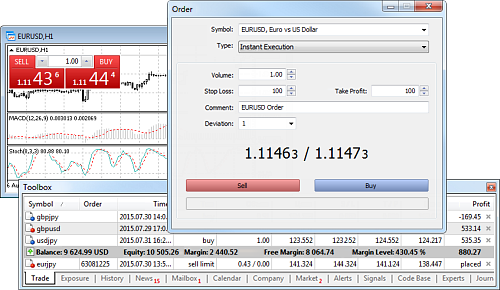 The platform provides a wide set of trading tools.
It supports four order execution modes: Instant, Request, Market and Exchange execution.
All types of orders are available in the platform, including market, pending and stop-orders. With such a diversity of order types and available execution modes, traders can implement various trading strategies for successful performance in the currency markets and stock exchanges.
The platform also features One-Click Trading and provides functions for trading straight from the chart.
Find out more >>
Analytics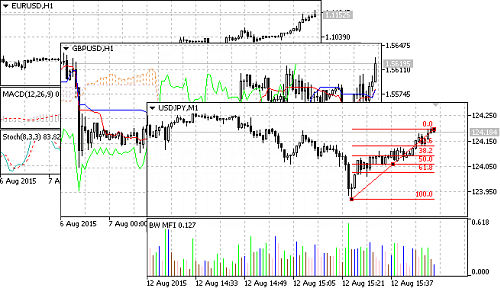 The trading platform provides powerful analytical functions. 82 different analytical tools are available for analyzing currency and stock prices, including technical indicators and graphical objects.
The analytical resources of the trading platform are not limited to the built-in indicators only. The trader can additionally use the free Code Base of technical indicators and the Market of trading applications.
There are 21 timeframes, from a minute to a month one, available for each financial instrument. Up to 100 charts of financial instruments can be open at the same time.
Find out more >>
Algorithmic Trading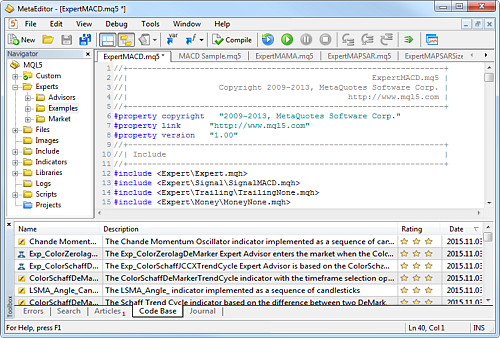 Virtually any trading strategy can be formalized and implemented in the form of an Expert Advisor, which can automatically trade for you. A trading robot never gets tired or suffers from stress; it accurately follows its algorithm and is much more responsive to market changes.
The trading platform provides all the necessary tools for Expert Advisor development: the powerful MQL5 language with an integrated development environment, a multicurrency tester for testing and optimizing strategies, and the Code Base of free trading robots.
Find out more >>
Mobile Trading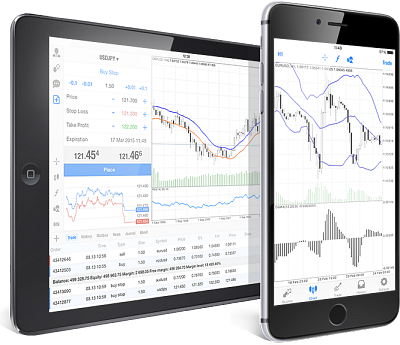 Smartphones and tablets are indispensable in trading when you are away from your computer.
Use special trading platform versions on your iPhone/iPad and Android devices to trade in the financial markets on the go.
You will certainly appreciate the functionality of the mobile trading platforms that include the full support for the trading functions, broad analytical capabilities with technical indicators and other graphical objects. Of course, all these features are available from anywhere in the world 24 hours a day.
Use the mobile platform to read financial news and internal emails, as well as for instant messaging with the participants of the most popular website for traders MQL5.community.
Find out more >>
Additional Services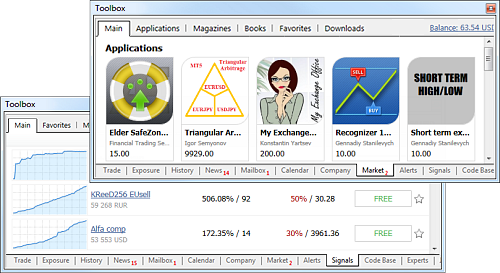 The platform provides powerful trading tools and a variety of additional services.
Social trading is available through the Signals service. This is an easy way to copy deals of experienced traders. Choose from thousands of signal, subscribe in a couple of clicks and the selected provider's deals will be automatically copied to your account.
Market is a store where you can purchase or download for free cutting-edge trading robots and technical indicators. An application can be purchased straight from the platform. The purchase procedure is simple and secure.
If you cannot find the desired app, order one from professional developers in Freelance. The service provides secure cooperation between the customer and the developer — a payment for an application is transferred only after the approval of the resulting program.
To ensure 24/7 operation of your trading robots and copied signals, rent a Virtual Hosting straight from your platform.
Find out more >>