How to purchase a Trading Robot or a technical indicator
Download and launch a new application in just a couple of clicks
MetaTrader Market is the best marketplace from where you can quickly find a trading robot or technical indicator with the most desired parameters. You can select an application and make a payment in just a couple of clicks straight from the platform — the application will be downloaded immediately and ready for use.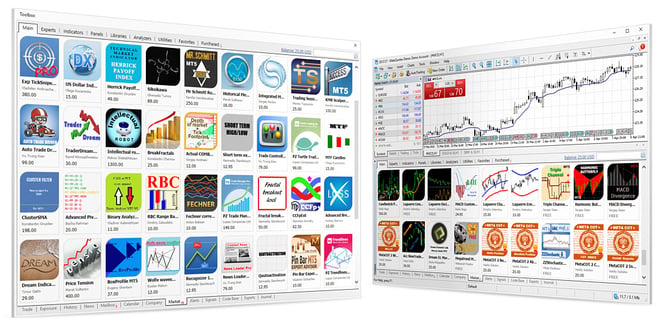 Each trading robot and indicator is provided with a detailed description and a free demo version. Before purchasing the full version, you can first download the demo and test the efficiency of the application in the Strategy Tester. By testing the demo version and assessing the results, you can decide if you wish to acquire the application.
Most sellers in the Market offer their applications for rent during a period between one to twelve months. Renting a product is cheaper than purchasing a full version — so even start-up traders with limited capital can use the latest technology of algorithmic trading.
In addition to paid or rented products, traders can download free applications from the market. By downloading such applications, beginners can further understand the principles of algorithmic trading and choose robots that are most suitable with their trading strategy.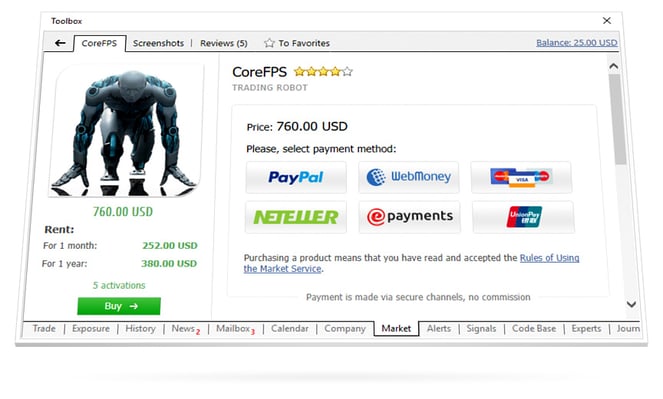 Purchasing or renting an application is an easy procedure. You can make a payment for the products purchased from the Market via the MQL5.com payment system, using bank cards, or from your PayPal, WebMoney, Neteller or ePayments e-wallet. Select the most convenient payment method, complete the transaction, and the ordered product will be downloaded to your MetaTrader 5 platform for immediate use.
After the purchase, your application is added to the Toolbox window on the Market's Purchases tab. You can launch or test an application from this tab, as well as update it, renew subscription or purchase the full version of a downloaded demo.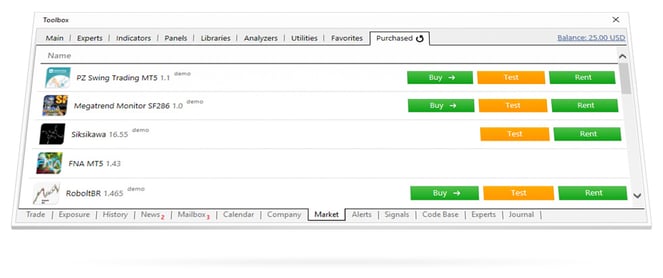 You can browse, purchase and download applications straight from MetaTrader 5. Purchase trading robots and technical indicators from the market and explore new trading possibilities!