Fundamental analysis in MetaTrader 5
Follow market events and capture every opportunity
Apart from technical analysis, fundamental analysis is a further tool that can be used to forecast the price dynamics of quotes and stocks. The particular aim of this tool is the constant monitoring of various economic and industrial indicators, which may affect the quotes of a financial instrument.
For instance, publication of annual reports, news about a new contract or appearance of a regulatory law can seriously affect the price of a company's shares. And for a trader to keep abreast of the market, the monitoring and analysis of such information is constantly needed.
Financial news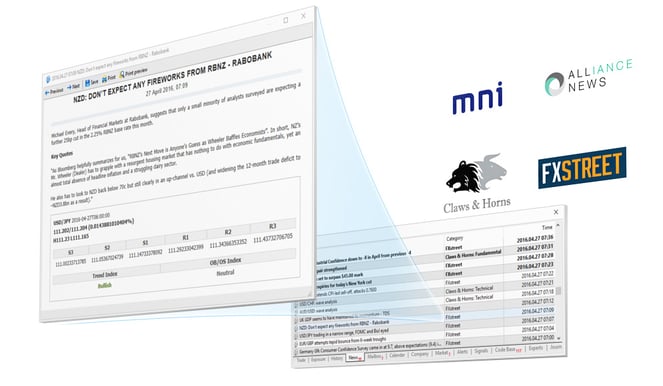 MetaTrader 5 provides built-in tools for comprehensive fundamental analysis — financial news and the economic calendar. The platform gives you straight access to financial news from international news agencies. What is more, the platform also provides daily broadcast of dozens of newsletters from global or national events, influencing quotes of stocks and currencies. Do not forget that financial newsletters help you stay updated and take appropriate timely actions.
It is worth noticing that a news release is not as important as the news' content and its possible impact on financial instruments. For example, a speech of a politician may lead to change the country's national currency rate — it can go higher or lower depending on the speech content. Each news message is unique and it should be analyzed individually. With MetaTrader 5 it is as easy as never before — news messages are delivered the platform providing all the necessary information to the trader.
Economic Calendar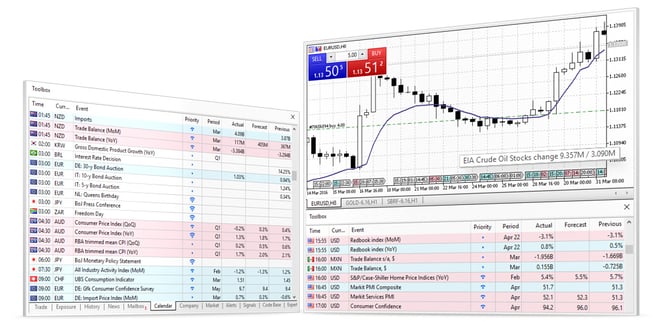 Another important fundamental analysis tool is the Economic Calendar. It provides publications of macroeconomic indicators — the values that describe the economy state of the country they are calculated for. By analyzing the macroeconomic indicators, it is possible to forecast future price movements.
Along with the time of the upcoming event, the forecast values are also published in the calendar. In addition, the reported period or the date of a statement are specified.
With the help of fundamental analysis, various events can be used in your overall trade analysis. Such broad availability of tools and features provided in MetaTrader 5, makes the decision process easier and more convenient. Use the MetaTrader 5 fundamental analysis features to improve your trading experience!