Technical analysis in MetaTrader 5
Forecast price movements of your favorite assets and trade
Technical analysis is an integral part of trading. It helps to identify various symbol trends, define support/resistance levels, forecast price dynamics and much more. In other words, with technical analysis you are allowed to have "a peek into the future" and use this advantage to succeed in trading.
The essence of such a technical analysis software is to study charts of financial instruments using technical indicators and analytical tools. MetaTrader 5 provides a large set of such analytical means. There are 38 technical indicators and 44 graphic objects, which are available for a comprehensive market analysis.
Technical analysis in MetaTrader 5:
38 technical indicators
44 analytical objects
21 timeframes
1-minute history
unlimited number of charts
Technical indicators
An indicator is the most important tool for technical analysis. Such indicators can be set to operate automatically in order to detect different patterns in the price dynamics of stocks, currencies and other financial assets. Based on this information, traders can assume further price movement and adjust their strategy accordingly.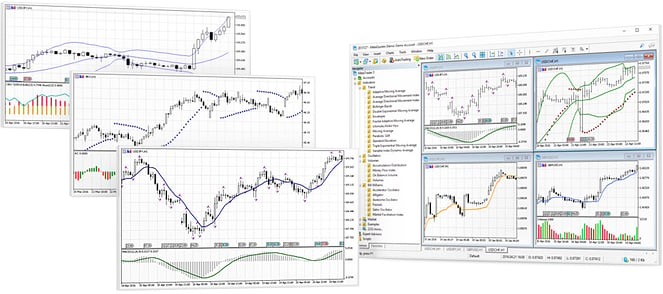 Many technical indicators have been developed since the creation of financial markets. The most popular indicators are included into the MetaTrader 5 trading platform. For more convenience, the indicators are divided into several groups: Trend indicators, Oscillators, Volume indicators and Bill William's tools.
Most of the technical indicators provide the flexibility to adapt the tools to any specific task. You can control both analytical parameters and settings which are responsible for the indicators' results and appearance. For example, you may change the calculation period of Moving Average as well as to adjust the color, width and line type.
Indicators can be added to the price charts or to a separate sub-window with an individual scale of values. Moreover, one indicator can be applied over another one. For example, you may apply a Moving Average on DeMarker and obtain a line of averaged values.
In general, MetaTrader 5 offers to the traders an elaborate set of tools for the comprehensive technical analysis. Even the most demanding traders can use additional technical indicators. Market and Code Base feature thousands of indicators that can help to expand further analytical capabilities. Download for free from the Code Base, and purchase or rent from the MetaTrader Market. You can obtain cutting-edge tools for technical analysis of any complexity level straight from the platform!
Should you need any specific indicator with particular analytical characteristics, you can develop it yourself. All the necessary tools are available in the platform, while a lot of additional useful material are constantly published on MQL5.com. A further option is to order a custom indicator from professional programmers for a reasonable fee.
Analytical objects
MetaTrader 5 offers 44 analytical objects: Gann, Fibonacci and Elliott tools, geometric shapes, various channels, and more. Contrary to the technical indicators, the analytical objects must be applied manually.
Objects control is intuitive and will not cause any difficulty. In order to apply a tool, a trader only needs to specify a few control points to plot the object. After that, the required analytical object will appear on the screen.
Analytical tools can be applied both on price charts and indicator windows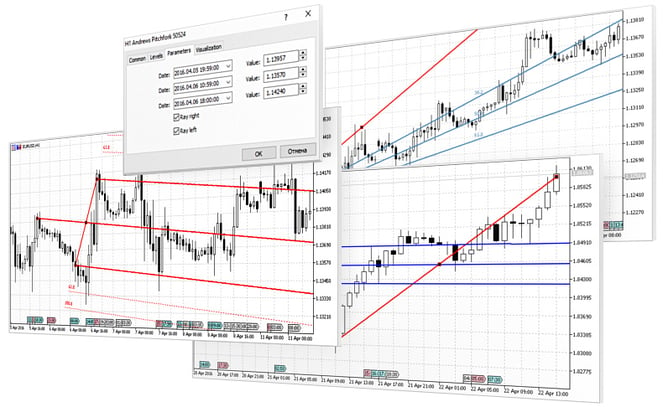 As with technical indicators, traders can also set the calculation parameters and appearance of graphical objects. For example, traders can set custom levels and colors of Fibonacci lines.
The impressive number of analytical tools available in the MetaTrader 5 terminal cover most of the needs of the modern trader. The MQL5 development environment and all the additional services for technical analysis offered on MetaTrader 5 have raised the level of analytical options through the roof. Check yourself!