Trading and orders in MetaTrader 5
Flexible trading system for every possible strategy
The MetaTrader 5 platform provides everything you need for successful trading, including up-to-date account information along with a powerful trading system. This platform also offers Market Depth, a separate accounting of orders and trades, the support of all types of trading orders and execution modes.

Two position accounting systems
MetaTrader 5 supports two order accounting modes: netting mode & hedging method can be used for trading. With the netting system, the trader will be able to have only one open position of a financial instrument at a time. The volume of that position can be increased or reduced through any further operation on the same symbol. With the hedging system, any new deal on a financial instrument opens a new position. Individual Stop Loss and Take Profit levels can be set for each of the open positions.

The powerful trading system of MetaTrader 5 ensures flexible control over trade operations. The platform provides all the necessary options for advanced trading!
Orders
All trade operation are executed through an order.

The MetaTrader 5 trading platform supports all types of trade orders, including market, pending and stop orders, as well as Trailing Stop. These four order execution modes are available to meet various trading objectives: Instant, Request, Market and Exchange execution.
Note: the mode of operation execution is set by the brokerage company for each financial security.
Market orders are used for instant execution. For example, if a trading strategy requires to have a deal which is instantly executed, a trader will be able to execute an operation, only by sending an order. The brokerage company then will execute the order at any price, and by giving such an order, a trader consents for its execution. In contrast, if it is important to enter the market as accurately as possible, a deal can be executed at the price specified in it. If the broker confirms the price, the trade request will be completed immediately.
MetaTrader 5 Trading System:
2 position accounting systems
Advanced Market Depth
2 market orders
6 pending orders
2 stop orders
Trailing Stop
Pending orders are formed instantly but they can be executed in future, as soon as the market situation meets the specified condition. For example, with the Buy Stop order a trader can buy stocks, currencies or other securities once their price will be higher than the current one. If the trader expects that a security price will rise to a certain level and then will continue the upward movement, then this request can be used.
Stop orders help traders to lock their obtained profits and minimize their losses. These orders are used in combination with market or pending orders, as well as with trade positions. The placing of certain orders (e.g."stop-loss" orders or "stop-limit" orders), which are intended to limit losses to certain amounts, may not be effective because market conditions may make it impossible to execute such orders. Pending orders are always set at a certain distance from the current price or from the open price of the order.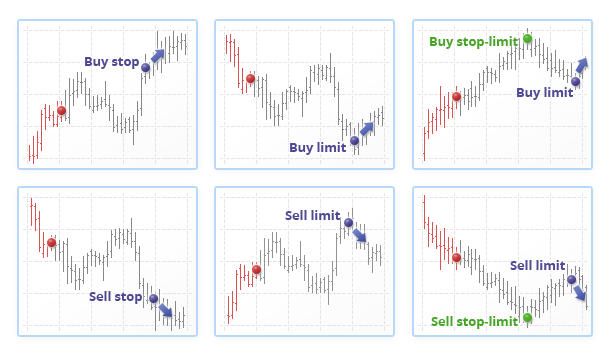 The Stop Loss order can be edited automatically to keep a certain distance from the current price. Trailing Stop is used for "trailing" the Stop Loss to follow the current price if the profit from a position increases. If price turns the opposite direction, the level of stop loss will not be changed. In few words, Trailing Stop will assist to minimize the losses and secure the profits.
Working with orders
MetaTrader 5 provides several options for placing orders in the platform for maximum expediency. Orders can be placed through the Market Watch window, from Market Depth, using hot keys or straight from the chart of a financial instrument. With the One Click Trading option an order can be sent with a single click of the mouse.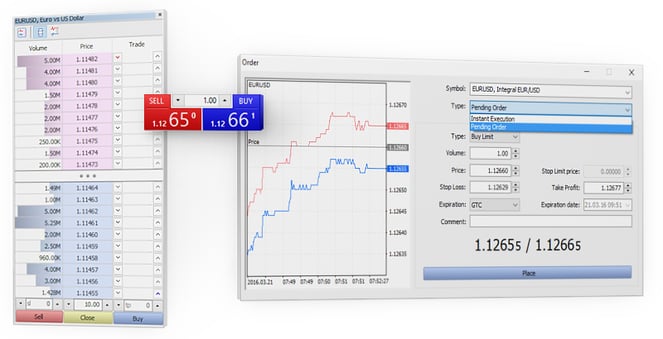 Comprehensive information about all the orders and open positions is always available in the Toolbox — Trade window. Through the Toolbox window, traders can track their number of orders and positions, open prices, volumes, stop-orders or their account status. Additionally, this tool gives direct access to the detailed history of all deals in one window.

Built-in reports are needed essentially for evaluating the effectiveness of trading operations. They can automatically analyze numerous different trade values: the profit factor, expected payoff, drawdown, number of trades, average profit/loss and many other parameters. With this valuable information you can easily evaluate a trading system or compare the results of different trading strategies.
MetaTrader 5 is the source of new and exciting trading opportunities. You can implement virtually anytrading strategy with MetaTrader 5!